Fresh Homemade Soups Made with Love
Wine, Beer, Groceries, and More!
The Best Breakfast Sandwiches
The best breakfast sandwiches on the seacoast
Includes choice of coffee. Available all day.
Add-ons, substitutions, and changes are extra.
#1 All American
Bacon, egg, cheese, on an English muffin
#2 Frenchie
Ham, egg, cheese, on a fresh baked croissant
#3 Southern Most Point
Sausage, egg, cheese, on a homemade cheddar biscuit
#4 Traffic Circle Bagel Sandwich
Your choice of:
Veggie – Egg, cream cheese, spinach, cucumbers, tomato, red onion
Meat – Egg, meat (sausage, veggie sausage, or bacon), cheese
#5 BELT
Bacon, egg, lettuce, tomato on toasted sourdough bread
#6 Over the Border
Sausage, egg, tomato, Cheddar cheese in a warm tortilla
Tossed Salad
Crisp romaine, shredded carrot, cucumber, red &
Vidalia onion, green peppers, tomato
Caesar Salad
Crisp romaine, grated Romano cheese, Ken's Creamy Caesar, croutons – Ask to add our House Recipe roast chicken for a Chicken Caesar Salad
Spinach Salad
Fresh baby spinach, dried cranberries, red onion,
cucumbers, Gorgonzola crumbles 
Cobb Salad
Crisp romaine, shredded carrot, cucumber, tomato, red onion, bacon, House Recipe roast chicken,
Gorgonzola crumbles, hard-boiled egg
Chef Salad
Crisp romaine, shredded carrot, red onion, tomato, cucumber, sliced ham, Genoa salami, Capicola, Swiss, Provolone, Cheddar cheeses
Dressings: Blue Cheese, Italian, Caesar, Balsamic, Ranch, Honey Mustard
Add to Your Salad: Avocado, Tuna, Chicken Salad, Deli Meats, Turkey, or House Recipe Roast Chicken
Classic Club
Turkey, bacon, lettuce, tomato, mayo on toasted Sourdough bread
The Revere
Salami, ham, Capicola, Provolone, Revere oil, lettuce, onions, peppers, tomatoes, pickles on a sub roll
Spring Fling
Turkey, spinach, cucumbers, red onion, Swiss,
mayo on Sourdough bread
Cranberry Chicken Salad
House Recipe white meat chicken salad,
lettuce on a fresh baked croissant
Chicken Bacon Ranch
Chicken, bacon, ranch, cheddar cheese on
toasted Sourdough bread
BLT
Bacon, lettuce, tomatoes, mayo on toasted
Sourdough bread
Veggie Wrap
All available on-hand vegetables. Choice of
condiments or choice of cheese
Tuna Wrap
Solid white Albacore tuna, mayo, shredded lettuce
Cobb Salad Wrap
House Recipe roast chicken, bacon, Gorgonzola crumbles, hard-boiled egg, lettuce, cucumber,
tomato, shredded carrot, red onion, mayo
Daily Seasonal Specials
We have a great selection of rotating seasonal special sandwich options. 
Bakery - (Based on availability)
Muffins / Turnovers / Danish
Whoopie Pies (Large single / 5 Shareable small)
Homemade Cheddar Biscuits
Croissants
English Muffins / Toast / Bagels
Cookies (selection varies daily)
Rice Krispie Squares
Brownies – Also available in Gluten Free!
Avocado
Add fresh sliced avocado to your breakfast
sandwich, salad, or sandwich
Fresh Cut Fruit
Daily selection of seasonal fresh fruit
Hashbrowns
On the side or added to your favorite breakfast sandwich for an extra crunch!
Potato Chips: Individual size or Large bags:
Regular
Sour Cream & Onion
Dill Pickle
BBQ
All Dressed
Cheddar Cheese
Cheetos
Doritos Original
Doritos Cool Ranch
Fritos
Featuring Green Mountain Coffee

Available in S, M, L, & XL
Hot Coffee or Iced Coffee
Hot Chai or Iced Chai
Over-Drive (Redbull infused drinks)
Our Over-Drive drink can be made with dozens of different
flavors, like peach, hibiscus, watermelon, blue-raspberry, and strawberry. Mix & Match flavors for a custom drink.
Don't want the sugar? We offer sugar-free varieties!
Coke Products
Pepsi Products
Gatorade
Monster
Juice
Milk
Chocolate Milk
Poland Spring Water
Red Bull
Smoothies
Frappes (made w/ice cream)
Fresh Lemonade
Fresh Lemonade (w/flavor) Iced Teas
Local Favorites: 
Sam Adams 
Harpoon
Sebago Brewing
Stoneface
Founders
Peak Organic
Shipyard
Baxter Brewing
Downeast Cider
The Classics: 
Bud/Bud Light
PBR
O'Doul's
Corona
Sierra Nevada
Coors Light
Blue Moon
Guinness
Twisted Tea
Spiked Seltzer
We stock Many more brands, just ask!
A rotating, curated  selection of:
Chardonnay
Sauvignon Blanc
Pinot Grigio
ReislingGewürztraminer
Champagne
Rosé
Dessert Wine
White Zinfandel 
Our Grocery Offerings: We have a selection of groceries! From half gallons of milk, to baby wipes… there are too many items to list.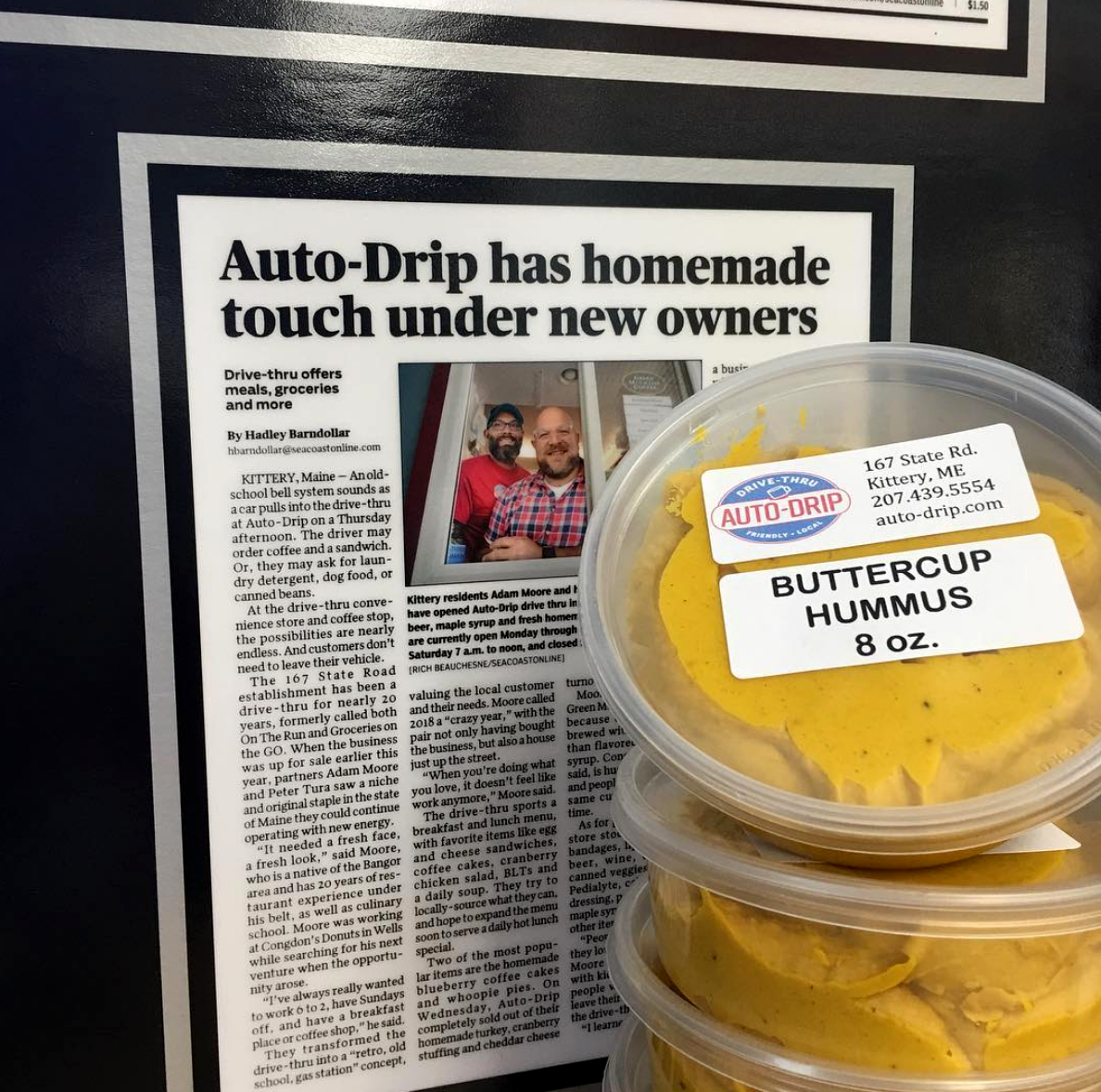 WE ARE A LOCAL ESTABLISHMENT, RUN BY… LOCALS!
As a small local business, we want to support other local businesses. We offer local products such as beer, maple syrup, and ice cream. Us small businesses have to stick together!
Auto-Drip is a drive-thru only grocery and convenience store located in Kittery, Maine – right next to the Kittery Traffic Circle. We offer coffee, homemade baked goods, sandwiches, freshly made soups, and hot food. You can also get groceries, craft beers, and select wines. All ordered from the comfort of your car!
Visit our Instagram and Facebook page to see our daily and seasonal specials.
We serve breakfast all day, great lunch items, bakery treats, and convenience items. Call or check social media for takeaway meals and specials.
Check out our menu for our great selection of tried and true favorites, including soup, salad, and sandwiches of all varieties.
Have a sweet tooth? Try one of our many homemade treats – Whoopie pies, muffins, danishes, or cookies. Drive-thru and check out the bakery case. You never know what will appear.
We have a selection of groceries! From half gallons of milk to baby wipes… there are too many items to list.
Adam and Peter started with a vision to bring the absolute best homemade food to the neighborhood. Making items from scratch and specializing in comfort, Auto-Drip has become a favorite for seacoast locals and visitors alike.
From a wide variety of coffee drinks and flavors to the always fresh rotating daily selection of homemade soups, Auto-Drip is committed to making customer satisfaction a priority.
The Auto-Drip experience is ready-made foods to-go and an outstanding beer and wine selection. Along with pre-prepared foods, we provide a range of grocery items. Served to you in the comfort of your car with a smile, a laugh, and the friendliest service on the seacoast.
What do our customers say?
Auto-Drip is my favorite place to get lunch, or a Rice Krispie treat! I love swinging through to see what treats they have. The atmosphere is fun. I love their seasonal flowers. Incredibly friendly experience!
Auto-Drip has been our go-to for lunch. It's great when you need something that always tastes great and is super fast.
I can get my caffeine fix and Auto-Drip's Revere Sandwiches to bring to the beach. It's great, I don't even have to take the kids out of the car, just drive-thru and we are on our way!!
The soups and sandwiches are amazing. We joke that the Auto Drip is our company's cafeteria. Everything is always fresh and served with a smile!